| | |
| --- | --- |
| | Bug Tracker 4.0 Keeps Software Fixes On Course |
Web-based tool helps ensure issues get resolved, not lost.

Here's a test: Can you list all the issues your software team is working on now? Can you sort them by severity, priority, features affected, and other criteria such as whether the issue is a bug, customer request, or product enhancement? Can you show the histories of all related comments and actions? Can you distribute this information easily to concerned individuals - showing only the information relevant to them? You can - if you manage software development at HP, Warner Bros., Unisys, Sony, McGraw-Hill, PricewaterhouseCoopers, the Walt Disney Co., or at any other Bug Tracker 4.0 customer. Bug Tracker 4.0 (Elementool, www.elementool.com) is a feature-rich, easy-to-use, web-based tool for documenting, tracking, and reporting software issues throughout their lifecycle. The tool comes in four packages - Basic, Advanced, Pro, and Premium - depending on features. Many users find the feature-rich Basic version - a free, ad banner-supported package - more than sufficient. If they choose, however, they can always upgrade to one of the subscription-based packages, ranging from $19.99 to $79.99 per month, which offer even more features.
Software Management Best Practices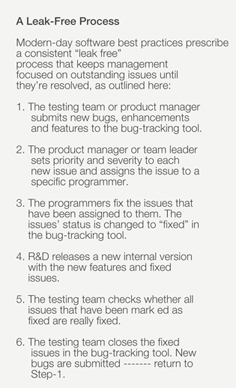 Much of Bug Tracker 4.0's appeal, in fact, is just how easily and inexpensively organizations can now adopt software management best practices. Software errors cost $59.9 billion each year according to the National Institute of Standards and Technology (NIST). Quality standards like Sarbanes-Oxley and ISO 9000 also make formal issues tracking a priority. And then there are market forces - in particular today's greater emphasis on product quality and user experience - both of which are driving companies toward better ways to bring software issues under management's control.

With Bug Tracker 4.0, many of the barriers that previously stood in the way no longer do. There's no expensive software system to install, integrate, maintain, upgrade, or protect. There's no heavy-duty procurement process to go through. It takes less than 30 seconds to open an account. Most customers pay by credit card if they do decide to purchase a subscription. And if a customer wants to close the account, they can, at any time for any reason without obligation.

Weston Morris, a Unisys systems architect, says that by first trying the free version, his team quickly satisfied any concerns about the solution's value or reliability and later switched to a subscription. "For Unisys, Elementool has paid for itself in savings of time and expense - without even counting the additional benefits." Morris says. In particular he likes how easy Bug Tracker 4.0 was to adopt within the organization. "It lets us work the way we want to work rather than the way the people who invented the tool want you to work." For example, Unisys added its own fields to reports, such as the estimated and actual time spent on an issue, to reflect the company's business rules.

Unisys also likes how it's now possible in a single solution to both track issues and distribute information about them to a geographically dispersed group. Another plus is the fact that internal developers and external customers can both share the same repository of comments and histories - while respecting everyone's need to keep sensitive information private.
Robust Feature Set
Because Bug Tracker 4.0 is web based, users are always assured they're getting the most advanced features with no worries about version compatibility or disruptive upgrades. And since Elementool can focus all its attention and resources on a single software build - the solution is highly optimized with a robust feature set that includes:
Fully customizable
Bug Tracker 4.0 can be tailored to support the forms, reports, and workflows of your team.
Multiple accounts
Customers who run multiple projects and need separate storage spaces, users lists, or form settings for each project can open a separate account for each project. Managers can manage all projects from a single view.
"Quick Reports" templates
Users can set up report templates that incorporate specific data into every report; so it's unnecessary to define the same filters each time a report is generated. Users can also make global changes affecting multiple issues with a single update instead of opening each issue separately.
Email notifications
When an issue is assigned to a team member, that individual receives an automatic email whenever there's a related event (e.g., an action taken).
File attachments
Attaching screen shots, text files, etc., provides a clearer picture of an issue.
History trail
Managers can audit all relevant events throughout an issue's lifecycle.
Website submissions
Customers and internal team members can submit issues for management from your website without logging into the tool.
Search and sort
Users can search issues for words and phrases, allowing them to create issue-focused reports using Boolean (AND/OR/NOT) logic. Users can also search and sort issues by pre-defined and user-defined tags such as priority, severity, feature, etc.

These are only some highlights. For a full list of features, please visit www.elementool.com.

The benefits, of course, extend well beyond the development teams that employ Bug Tracker 4.0. Higher quality software is produced faster at less cost. User satisfaction is higher, which can mean more revenues and higher profits. Compliance is more assured and product liability is avoided. Best of all, organizations end up actually doing what they intend to do - produce software rather than make mistakes.